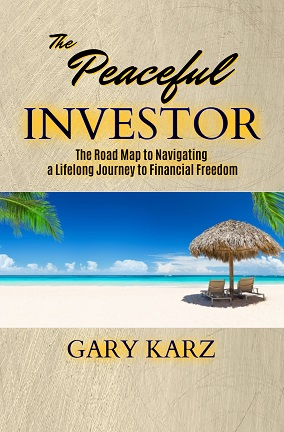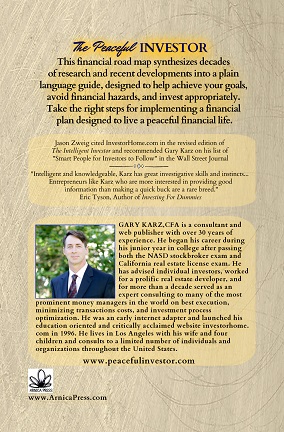 Buy The Peaceful Investor at Amazon
Table of Contents and Launch Site
I am offering the online chapters of the book using "The Honor System." Tip options at the bottom of the page.
Stocks for Long Term Investing
"I know of no way of judging of the future but by the past."


Patrick Henry

"those who do not study history are doomed to repeat it."


George Santayana

"Stocks are a safe bet, but only if you stay invested long enough to ride out the corrections."


Peter Lynch, Worth Magazine, December/January 1997

"If you adhere to the dogma that stocks must beat bonds in the long-enough run, there is no P/E level that the market averages out to at which you will take in sail. A Ponzi bubble is ever possible, and given past psychologies of boom and bust, ever-higher P/E ratios become a self-fulfilling prophecy."


Paul Samuelson, "The Long-Term Case for Equities," The Journal of Portfolio Management, Fall 1994.

"If history books were the key to riches, the Forbes 400 would consist of librarians."


Warren Buffett - Berkshire Hathaway Annual Report, 1990, 18.

"Only buy something that you'd be perfectly happy to hold if the market shut down for 10 years."


Warren Buffett

"In the long run we are all dead."


John Maynard Keynes

---

Chapter 15 Notes - The Footnotes in the Book are sequential and for this chapter start at #263 and end at #273.
These notes are provided for those that have purchased the book and would like to access the notes and links directly.

1. http://www.crsp.com/50/images/rates%20of%20return%20paper.pdf
http://crsp.com/files/Journal%20of%20Business%20-%20Rates%20of%20ROI%20in%20Common%20Stocks.pdf
2. July 11, 2009
http://jasonzweig.com/does-stock-market-data-really-go-back-200-years/
3. http://www.jeremysiegel.com/index.cfm?fuseaction=Resources.Download&resourceID=6950 August 5, 2009
4. https://papers.ssrn.com/sol3/papers.cfm?abstract_id=236982
5. Source: Global Investing by Roger Ibbotson and Gary Brinson
6. William Goetzmann, Money Changes Everything: How Finance Made Civilization Possible. 2016. Princeton University Press. See also Ronald Kahn, The Future of Investment Management, CFA Institute Research Foundation https://www.cfainstitute.org/-/media/documents/book/rf-publication/2018/future-of-investment-management-kahn.ashx
7. See Philip Straehl and Roger Ibbotson, The Long-Run Drivers of Stock Returns, Financial Analysts Journal, Third Quarter 2017
8. https://merage.uci.edu/~jorion/papers/risk.pdf (2003)
9. https://www.cfapubs.org/doi/abs/10.2469/faj.v51.n3.1901?journalCode=faj
10. Hendrik Bessembinder, Te-Feng Chen, Goeun Choi, K.C. John Wei, "Do Global Stocks Outperform US Treasury Bills?", July 9, 2019
11. https://papers.ssrn.com/sol3/papers.cfm?abstract_id=3415739



---




I am offering the online chapters of The Peaceful Investor using "The Honor System." If you don't plan to purchase a version of the book, yet you think it was worth your time and you learned a significant amount, you can tip or compensate me in a number of ways. This will probably not be tax deductible for you, but I will report and pay taxes on any payments.

If you don't think the material was worthwhile, I would appreciate emails letting me know what you read and whether you disagree with anything in particular. I would also appreciate anyone letting me know if they find any typos, mistakes, or suggestions how to improve the material.
Table of Contents and Launch Site Last update 12/31/2019. Copyright © 2019 Gary Karz. All rights reserved.
Conditions and terms under which this information is provided.